Figure 2. Overview of PolyFormer architecture. The model takes an image and its corresponding language expression as input, and outputs the floating-point 2D coordinates of bounding box and polygons in an autoregressive way.
The main contributions of PolyFormer are summarized as follows:
It provides a unified framework for referring image segmentation (RIS) and referring expression comprehension (REC) by formulating them as a sequence-to-sequence (seq2seq) prediction problem.
It uses a regression-based decoder for accurate coordinate prediction, which outputs continuous 2D coordinates directly without quantization error. To the best of our knowledge, this is the first work formulating geometric localization as a regression task in seq2seq framework.
For the first time, we show that the polygon-based method surpasses mask-based ones across all three main referring image segmentation benchmarks, and it can also generalize well to unseen scenarios, including video and synthetic data.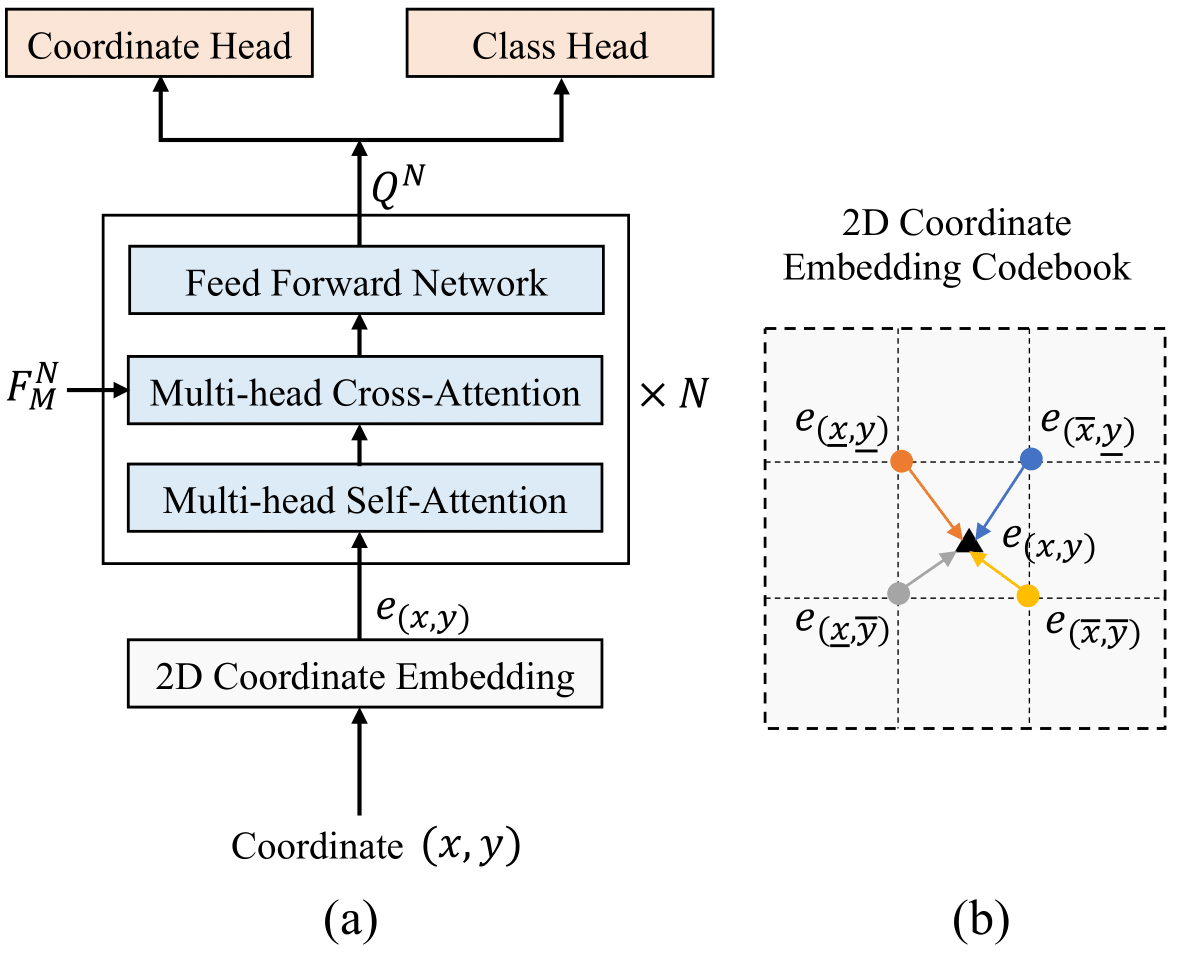 Figure 3. The architecture of the regression-based transformer decoder (a). The 2D coordinate embedding is obtained by bilinear interpolation from the nearby grid points, as illustrated in (b).
Previous visual seq2seq methods formulate coordinate localization as a classification problem and obtain coordinate embeddings by indexing from a dictionary with a fixed number of discrete coordinate bins. Instead, we predict the continuous coordinate values directly without quantization error for accurate geometric localization.
Our regression-based decoder is unique for three critical designs:
It generates precise 2D coordinate embedding for any floating-point coordinate by bilinear interpolation of its neighboring indexed embeddings.
It decouples token type and coordinate prediction, where a coordinate head predicts the 2D coordinates of the referred object bounding box corner points and polygon vertices, and a class head outputs the token types.
It introduces a separator token that allows it to accurately model fragmented objects with multiple polygons.